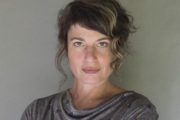 Merav Tzur's childhood experience with the unique pedagogical concept of the Israeli Kibbutz "Junkyard Playground"—where children use objects diverted from landfill to build temporary environments and creatively interact with them and each other—has informed much of her artistic practice. Tzur's work mostly fabricates fertile environments where all parties can explore their capacity for spontaneous, transformative, and inventive play, to better understand themselves as individuals and within a collective, their behavioral patterns, and personal truths and misconceptions.
Each of Tzur's works is both an individual project and part of a larger compilation of related works exploring how we construct narratives, and how these stories are related to broader questions of identity and community. Her interdisciplinary practice mines social networks, Internet imagery, scientific research, history, social movements, literature, and religion in order to probe the platforms we use to construct our personal, cultural, social, and political ideologies. The diversity of Tzur's projects reflects her interests in creating work beyond the gallery space and traditional object making.
Tzur was born in Israel and moved to the US when she was twenty-two. She received her MFA from UC Berkeley and BFA from California College of the Arts. Her work has been shown at the Contemporary Jewish Museum in San Francisco, YBCA, Kroswork Gallery, SOMArts Gallery, SFPAI, and in Israel. She teaches sculpture, contemporary art Seminar and multimedia at San Jose State University and Ohlone Community College. A recipient of the 2012 Dorothy Saxe Invitational Award for Creativity in Contemporary Art from The Contemporary Jewish Museum, she lives and works in Oakland, California.